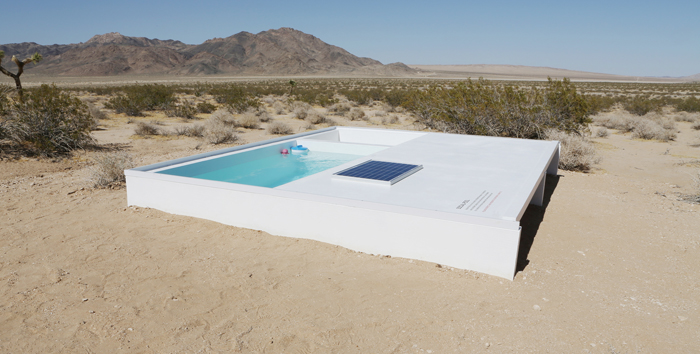 We have searched and … Get Americas found it for you! This incredible swimming pool at the heart of the Mojave Desert. A real oasis to refresh you.
At the heart of its 40 000km2 of dry areas of desert, difficult to find a corner of shade or a source of freshness.
Built by the artist Alfredo Barsuglia in the middle of the Californian desert, the long swimming pool of 3,35m and wide of 1,5m guarantee you an unforgettable moment and a way of feeling you privileged.
All what you need to take advantage of this moment, it's your swimsuit, a GPS, the key of the swimming pool and naturally your sunscreen. The way to join the swimming pool requires a GPS because indeed the address is top secret and must be revealed to nobody, as of today's date, only people having already been knows it.
An unusual place whose the purpose of the creator is to make reflect us about our values between dream and reality, whim and necessity, isolation and company.
And now, will you cross the desert for an unique moment of freshness cut of time?
To book : vip@getamericas.com