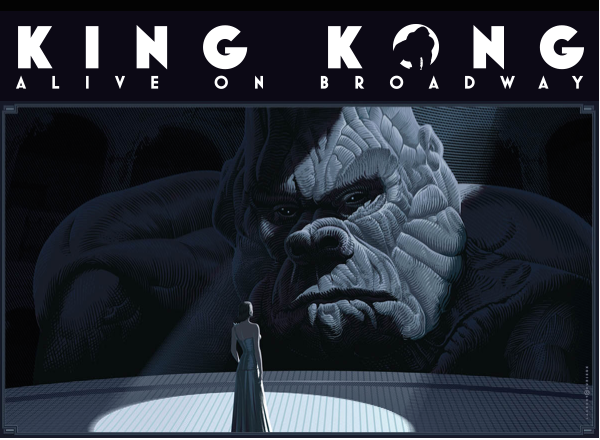 New show on Broadway for your next event in New York
How do you reveal the heart of a 2,000-pound, 20-foot-high gorilla? That was one of the challenges facing the team behind King Kong, the new musical set to arrive in New York — about a mile north of the Empire State Building — this fall.
Due to begin previews October 5 in preparation for a November 8 opening at the Broadway Theatre, the show brings together an array of established talent: playwright and screenwriter Jack Thorne, currently up for a Tony Award for Harry Potter and the Cursed Child; composer Marius de Vries, whose credits include the celebrated movies La La Land and Moulin Rouge; songwriter Eddie Perfect, who is working on a musical adaptation of the film Beetlejuice; and director/choreographer Drew McOnie, whose most recent project, Strictly Ballroom: The Musical, had its West End debut this spring.
Noted creature designer Sonny Tilders developed the Kong audiences will meet, using a combination of cutting-edge animatronics and puppetry. And the musical actress Christiani Pitts, currently completing a run in A Bronx Tale, will reintroduce Ann Darrow — the woman who inspires Kong and is inspired by him — as a decidedly contemporary heroine.
Producer Carmen Pavlovic had in mind a character different from "the screaming blonde who made the big, scary monster save her," as Pavlovic puts it. After different incarnations, including a show staged in Australia in 2013, she tapped Thorne, known for his ability to inject emotional depth and nuance into a variety of characters and settings.
"We wanted to get away from the stereotype of the damsel in distress," says Thorne. In that process, he decided to scrap the character of Jack Driscoll, Ann's love interest in the original 1933 film starring Fay Wray, and subsequent movies, including the 1976 and 2005 updates with, respectively, Jessica Lange and Naomi Watts. (Thorne's book is based on a 1932 novel adapted from the first movie's screenplay as production was wrapping.)
Thorne retained the character of Carl Denham, the filmmaker who travels to Skull Island to capture Kong. "He's this swashbuckling adventurer who makes you think that anything is possible, but who has no sense of moral responsibility and stops at nothing to get what he thinks he deserves," Thorne says of Carl, played by Eric William Morris. "So you have this journey with two very complicated people, and one very complicated gorilla."
For Pitts, this King Kong is distinct "because it's from Ann's perspective, where in other versions everything happens to Ann; she's never really in control. In this version, she's incredibly strong and compassionate and thoughtful." Pitts, who also writes, has actually been in love with the character since seeing the 2005 film during her youth: "It wasn't just her physical beauty, but her soul, how she saw the light in a dark world. I tried to write roles like that for myself, adventurous and compassionate female protagonists, because it didn't seem like I would ever be able to play her."
As an African American woman, Pitts finds resonance in "another layer of Kong's journey, which is about freedom. His was ruined when he was made captive and sent to America. There are racial undertones in King Kong that people have been trying to figure out for a long time, and as a black woman, I do feel a connection to that. But this role is not particular to one type of woman: It's about strength and courage."
Pitts points out the musical is topical on a variety of levels. "Ann is a woman in a world dominated by men, and at one point she's cornered by a man and told, 'If you don't do what I tell you to do, I'll ruin you.' And she still stands up for herself; she knows she has to do what's right for her, and for this other being."
That story, McOnie adds, involves "a different kind of love, based on mutual experience and trust" between Ann and Kong. It also entails the kind of action and adventure you'd expect from the various films, reimagined in a theatrical context. "Big swaths of story are told through dance," says McOnie, noting that the title character of this musical neither sings nor speaks lines. "There's a lot of visual storytelling, with acrobats and dancers and this huge puppet that breathes and roars and cries with you. It's this romantic explosion of body language, where you don't need words to communicate."
Pavlovic notes that the tale "takes place against four really epic backdrops. There's the city of New York, the boat journey at sea, Skull Island, and then a return to a very different New York City. In early stages of development we went down the path of being a more traditional musical, but we realized that the music had to work on a cinematic scale to fit these large landscapes, and that music and movement needed to come together during this journey."
The result, Pavlovic says, is a King Kong with "so many relatable emotions and ideas. It fascinates me that no matter what point in time this story is told, the journey seems to speak to something in the zeitgeist. And it's a great tale of adventure and hope. I'd love for people to go and have a great time."
| First Preview Date | Opening Date | On Sale Through |
| --- | --- | --- |
| October 5, 2018 | November 8, 2018 | April 14, 2019 |
We can privatise the show for a large ground make a cocktail after the show..
For more informations, mice@getamericas.com