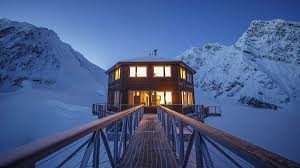 Perched on a nunatak above the Don Sheldon Amphitheater, just 10 miles from the summit of Denali, the Sheldon Chalet is more than a place to stay – It's an opportunity. "Experience Grand" at this exclusive destination on the flanks of North America's highest mountain.  
The lodge, which opened in February, is only accessible by helicopter from the town of Talkeetna. Upon arrival, guests are offered locally inspired fare prepared by the lodge's private chef—think Alaskan crab and barbecued oysters—as well as an array of guided outings in the mountainous wilderness. Among them: a rappelling adventure, a mountaineering course, crevasse exploration and a " ightseeing" plane tour of the surrounding peaks. At an elevation of 6,000 ft., the chalet also offers extraordinary views of the Northern Lights, which are brighter in the desolate wilderness.
At 6,000 feet in elevation, the Sheldon Chalet is as unique as the surroundings are breathtaking. Fine dining, luxury accommodations, and exquisite service are a commitment to the property's distinctive environment.
"Everything" comes at a price, to be sure: $23,000 a night, with a two-night minimum stay (and three nights recommended). It's the kind of once-in-a-lifetime, tell-the-grandkids trip where every detail is memorable. The Sheldons worked with Alaskan artisans to appoint the big-windowed, weather-safe, and seismically secure steel structure in local woods, collaborating with craftsmen in Talkeetna, for example, to make a massive round table from birch. The culinary side of things proves equally tied to a sense of place: "Alaska gourmet, we're calling it: seafood, game, foraged items".
More informations at : vip@getamericas.com