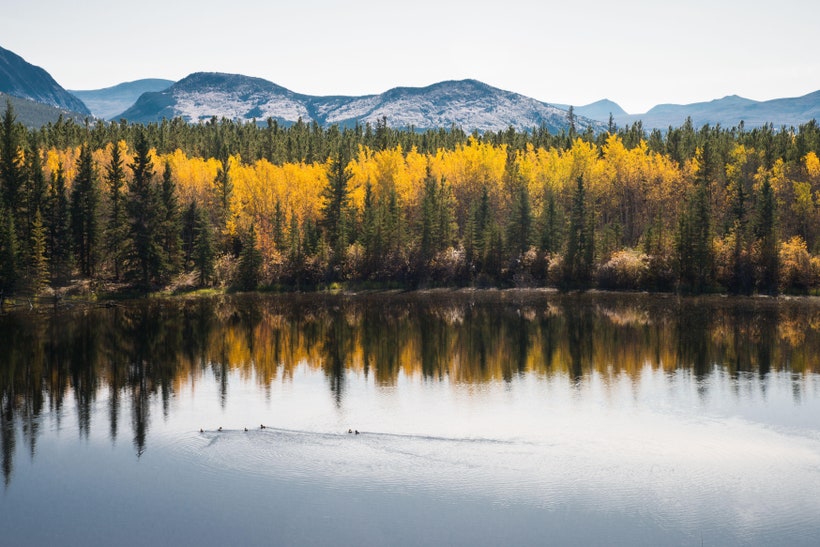 Known as the ALCAN, or Alaska-Canadian Highway, this 1,390-mile route in the Pacific Northwest was once rugged and hard to tackle, with several unfinished stretches when it first opened in the 1940s. These days, the journey is far smoother and takes around five days to drive, starting just over the border in British Columbia. Expect to encounter bears and moose as you cross through a landscape of mountains and lakes. The best time to come is in June and July; it can be a little damp, but the extra-long days allow you to make the most of your time driving, fishing, and hiking.
Where to stop: Before entering the wilderness, stop in Vancouver for a walk through Stanley Park. Whitehorse in the Yukon Territory is one of the few landmark towns on the ALCAN (and a good place to overnight). The Takhini Hot Pools just north of there provide views of the northern lights in winter, if you're lucky.
Where to eat: Relish the Asian influence on Vancouver's culture with Szechuan dishes at Bao Bei or try a cocktail or two at the decade-old The Diamond, an upscale lounge in buzzy Gastown. On the road, if you're not cooking for yourself over a camp stove, Whitehorse has a few worthwhile options, like Mexican joint Antoinette's or bistro-like Burnt Toast Café.
Where to stay: This is a place for camping and RVs rather than hotels, and there are almost 20 different government-run parks on the route that have room for both. But if you do need a little pampering, consider the Northern Lights Resort and Spa in Yukon where three new glass-fronted chalets offer the perfect perch to watch the light show.
For more informations,
vip@getamericas.com