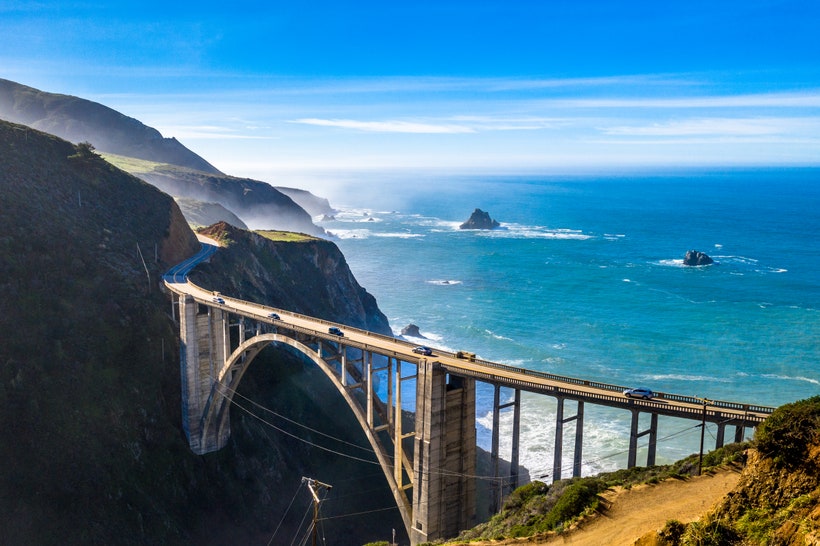 Rent a convertible and embrace every road trip cliché with a drive down the Pacific Coast Highway, or PCH, a cliff-hugging, exhilarating 123-mile drive along the central California coast. Start in San Francisco and drive southbound, as you'll be closer to the ocean, and allow four or five days if you don't want to rush. Charming coastal towns like Monterey and Carmel-by-the-Sea give way to the rugged emptiness of Big Sur, before you hit the central Coast and the architectural sugar rush of Hearst Castle.
Where to stop: Other than Hearst Castle, the over-the-top estate that's equal parts tribute to William Randolph's deep pockets and magpie-like instincts, the outdoors is the main allure here. On the northern reaches of Big Sur, just 15 miles south of Carmel, stop to take an obligatory photo of the Bixby Bridge, one of the tallest concrete bridges in the world. For hiking, head to Julia Pfeiffer Burns State Park in Monterey County, which has an easy path that leads to the overlook for the 80-foot high McWay Falls.
Where to eat: Ritzy Carmel-by-the-Sea has a food scene that is just as upscale as the surroundings: local fish is the backbone of the cooking at Chef Justin Cogley's Aubergine, while Il Tegamino serves up the high-end Italian comfort food.
Where to stay: Splurge on a night or two at the clifftop Post Ranch Inn in Big Sur, where rooms have floor-to-ceiling windows looking out at the crashing ocean. Make sure to take a dip in the infinity pool, which hangs 1,200 feet over the sea below.
For more informations, vip@getamericas.com