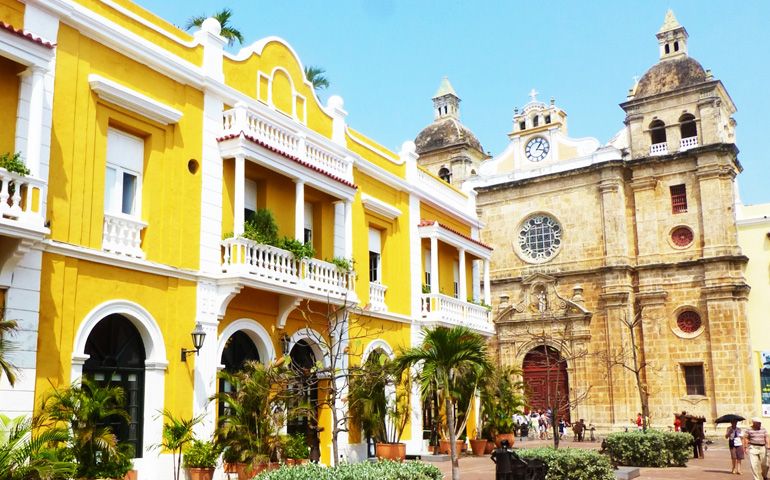 Get Americas suggests you leaving discover Colombia with your teams for an unforgettable incentive.
– Colombia is a country which has an exceptional diversity: a strong culture, magnificent landscapes and extraordinary flora and fauna.
– It is a unique playground regarding activities and places to be visited with your group for your journey of company in Latin America.
– In Bogota, there are a center of convention and numerous luxury hotels. The city occupies the sixth row among the first ten Latin American destinations in term of realization of international-wide events, according to the classification 2013 of the ICCA (International Congress and convention association).
– Cartagena which is situated in the North of Colombia, on the coast of the Caribbean Sea, is classified by the UNESCO in the world heritage of the humanity. It is one of the most popular destinations of the Caribbean Sea. We can organize extraordinary events in unusual places there, such as the castle of San Felipe de Barajas, the Place de la Douane either still the Place de Santo Domingo. More conventional, there is also a center of convention, the Julio Caesar Turbay Ayala.
– Bucaramanga will be the perfect place for a sports stay company whose the purpose is to strengthen the team spirit and the cohesion of group. We find numerous sports adventure as the paragliding or the rafting there. It's the city which abounds in surprising landscapes, whose the incredible canyon of Chicamocha.
– The possibility to privatise a whole island will be something unheard of for your incentive, which will brings a feeling of privilege. Your collaborators will be amazed and don't risk to forget their stay!
– Leave for excursion in jeep to discover the regions of the coffee in Colombia. A fascinating and enriching activity.
– Organize a cocktail party in the slept of the sun on a catamaran in the bay of Cartagena to amaze your collaborators. Of what to spend a day rich in sensations and in fulfillment!
Always not convinced? Contact our MICE experts to bring you the necessary informations to make a success of your next incentive in Colombia!