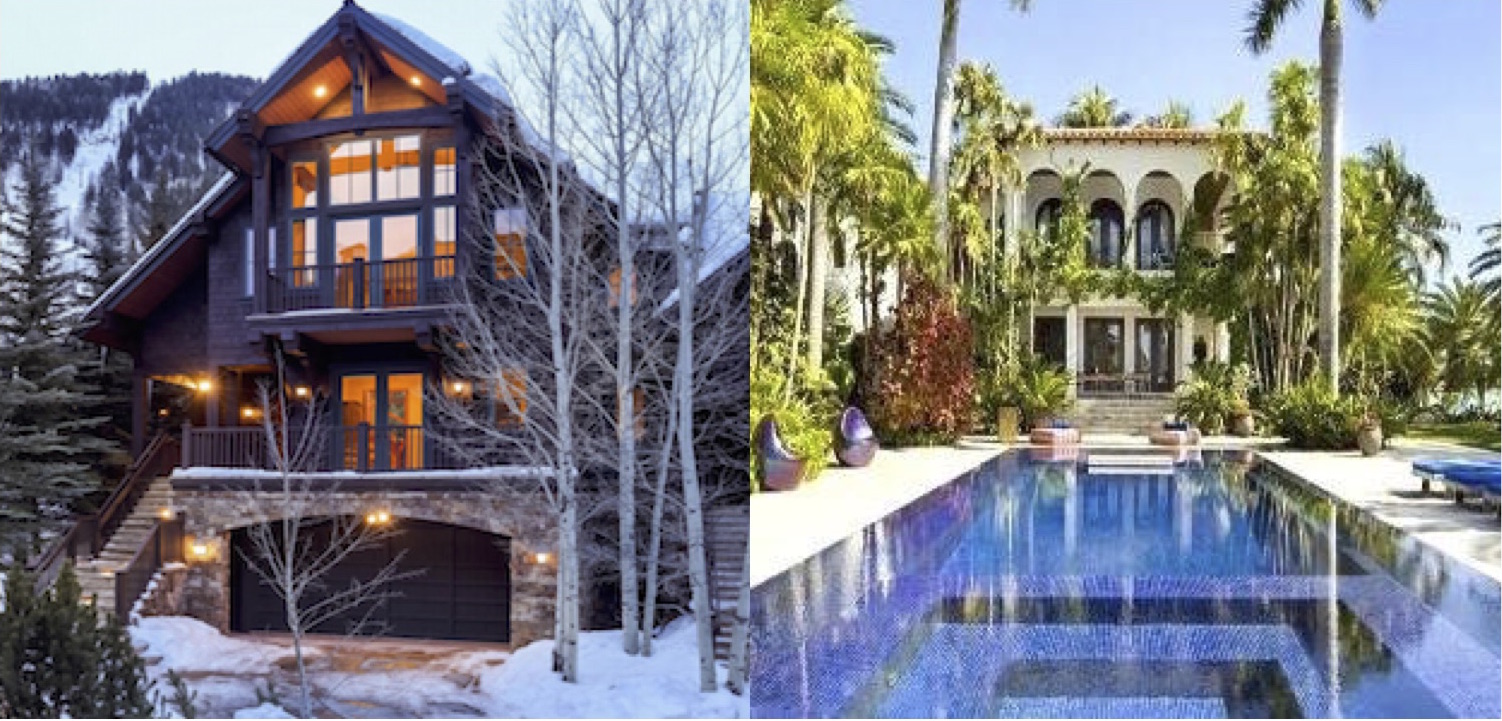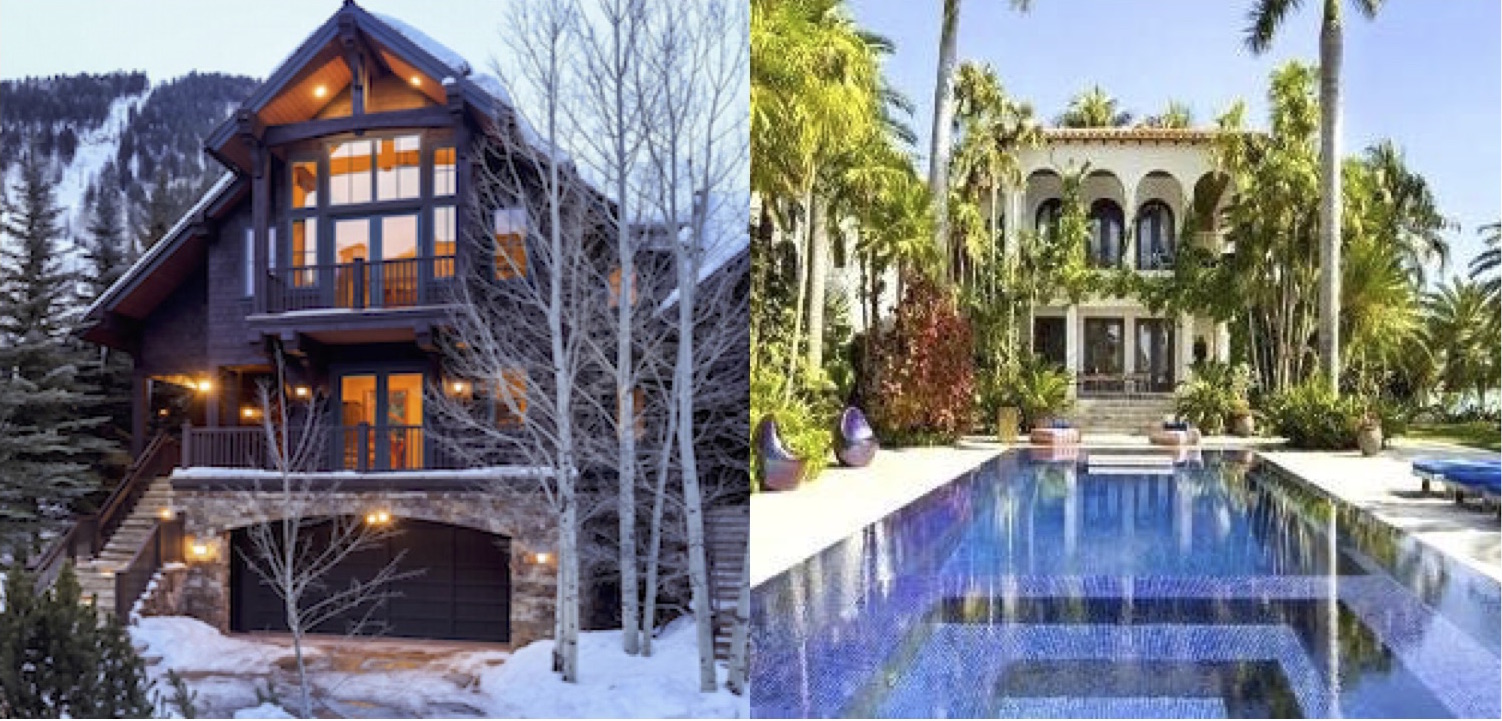 From the fresh Colorado mountain air to warm sunshine shores, from the highest peaks to hidden beaches. It can be hard to choose between mountain or beach, winter or warmth, ski or swim. Which is why our travel experts from Get Americas, have compiled a list of the most desirable luxury vacation rentals around the world. Inspired by golden shores, rugged clifftops and mountainous ranges, there's a destination for everyone in this contrasting list of unbeatable properties.
Magnificent Mountains in the US, from November to March.
If you're looking to change your scenery completely with outdoor adventure and total escapism, there's no better refuge than the mountains. Calm and crisp, high and mighty, there's something inviting about the highest peaks that beckons traveler's year after year. Whether it's for adventure travel, getting back to nature or just getting away, there's many reasons why a mountain break could be the right choice.With high hilltop views, romantic wood burning fireplaces and complete isolation, head to Villa Justine in Aspen. This six-bedroom home offers complete privacy in the lap of luxury with all modern comforts, including; a wet bar, built-in barbecue grill and fire pit to wow guests. This world-famous American destination has some of the best ski runs in the world.Granite Ridge Lodge 16 is a luxurious and tasteful estate, ideally suited for an active family or group of travelers in Jackson Hole's Teton Village. It's both luxurious and rustic; the interior is dominated by tasteful pine beams, cozy furniture and modern appliances to fuse elegance with comfort. Villa pre-stocking and activities and excursions are available upon request.
Blissful Beaches
If you're more in tune with the gentle sounds of crashing waves and sand between your toes, then a beach holiday may be more suited to you. There's certainly no end of choice when it comes to white sands and turquoise waters – the challenge is finding somewhere unspoiled and undiscovered.If total pampering and pristine beaches is your thing, then say hello to the Turks & Caicos islands! With impossibly blue waters and endless stretches of golden sand, it offers the ultimate beach break. In Long Bay, the breath-taking mansion of Villa Trina is a stand-out property spanning 10,000sq feet. It features seven impeccably designed bedrooms, an outdoor movie theater with fire pit, hot tub, no less than two private pools, a tennis court and of a course a butlerPerhaps you're looking for a tranquilly and beach life, with all the amenities of modern living nearby? Then the private residence of Villa Denise in Miami Beach offers a stunning luxury vacation home to unwind in. Expect total tranquilly and escape in this elegant property on the elite Sunset Island. Its heated pool and luscious gardens provide the perfect backdrop to a restful stay.This very private at the Barbados, recently renovated, 2 storey, beachfront villa includes a large ocean front terrace with pool and private steps down to an idyllic beach. It is located close to the Lone Star Restaurant and is within a few minutes of all other amenities. This is an exceptional holiday home benefiting from a successful rental history. There is access down to a small tidal beach with lovely snorkeling and swimming. Three lovely en-suite bedrooms are located on the first floor, while the ground floor comprises of the living area, kitchen and exceptional sun terrace with plunge pool.One of the most stunning homes on the widest beach in Malibu, Broad Beach delivers an exceptional experience of relaxed Los Angeles living. Watch the sunsets over the Pacific from the three oceanfront decks of this luxury vacation rental and take advantage of its location close to downtown to sample the world-class restaurants nearby. The indoor/outdoor entertaining areas and five suite-style bedrooms are ideal for a family holiday or surf getaway with friends.From lush green fairways to deep blue water stretching to the horizon, the best of Punta Cana awaits at Casa Co. Part of the Punta Cana Resort, this luxury Dominican Republic vacation rental is set amid a tropical garden and overlooks both a golf course and the Caribbean SeaEnjoy a vista worthy of royalty at King's View. Set on its own private stretch of sand just minutes from Harbour Island's famous Pink Sand Beach, this beautiful vacation rental looks out over the turquoise waters of the bay on the island's south end. Reserve this eight-bedroom luxury property for a relaxed holiday with extended family, or a fishing or snorkeling getaway with friends.Enjoy panoramic ocean views and a beach within walking distance at Marigot Bay (St-Barth). Set on a hill above Marigot Beach, the two-bedroom villa is also within a short drive from several other beaches, downtown Gustavia and the airport. Its charming architecture and layout around a veranda and infinity pool make it easy to take advantage of the warm breezes and beautiful views.Perched high in the hills of the exclusive Cap Estate, Akasha represents St. Lucia's premier villa experience. This four storey masterpiece, a temple to sophisticated, ultra-modern design, is unlike any other home you'll find in the Caribbean. Its lofty vantage point offers stunning views across Pigeon Island National Park to the Caribbean Sea.
Explore our prize villas at : vip@getamericas.com