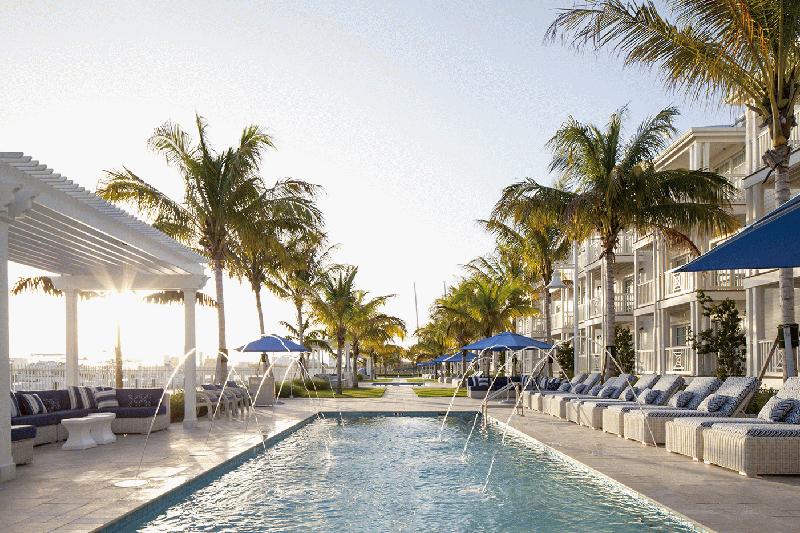 The Florida Keys' newest independent luxury hotel, Oceans Edge Key West Hotel & Marina, opened on Jan. 1 in Key West, FL.
Spanning 20 oceanfront acres where the Atlantic Ocean meets the Gulf of Mexico, the property will be the first hotel on Stock Island — one of seven islands that constitute Key West — and the largest in Key West. It will boast 175 guest rooms, six swimming pools, a full-service restaurant, an onsite Starbucks, dedicated water sports offerings, a dog park for guests' pets, and a marina with 163 slips that will be the closest U.S.-based marina to Cuba.
Developed by local hospitality developer The Singh Company, the property features three-story residential structures with Key West signature design elements, such as reclaimed ship wood, clapboard exteriors, and open breezeways that promote indoor/outdoor living.
"The namesake of the hotel has set the stage for the design narrative we have created — life at the edge of the ocean. It was a luxury to be able to create a truly residential and modern setting for guests that blends indoor and outdoor living so seamlessly," said Ann Johnson, who led the property's design. "We strived to tell a modern interpretation of Key West through some of the statement decor pieces found in each guest room that act as a nod to some of the precious cargo that would have decorated the homes of some of the area's most successful wrecking families.  From Chinese porcelain to colonial furniture, oil paintings and exotic fabrics, every thoughtful detail holds authenticity."
Oceans Edge Key West Hotel & Marina formal opens on Jan. 1
This package including 3 nights at the Oceans Key West Hotel & Marina for 2 pax
Rates from : 597$ 
To book : vip@getamericas.com