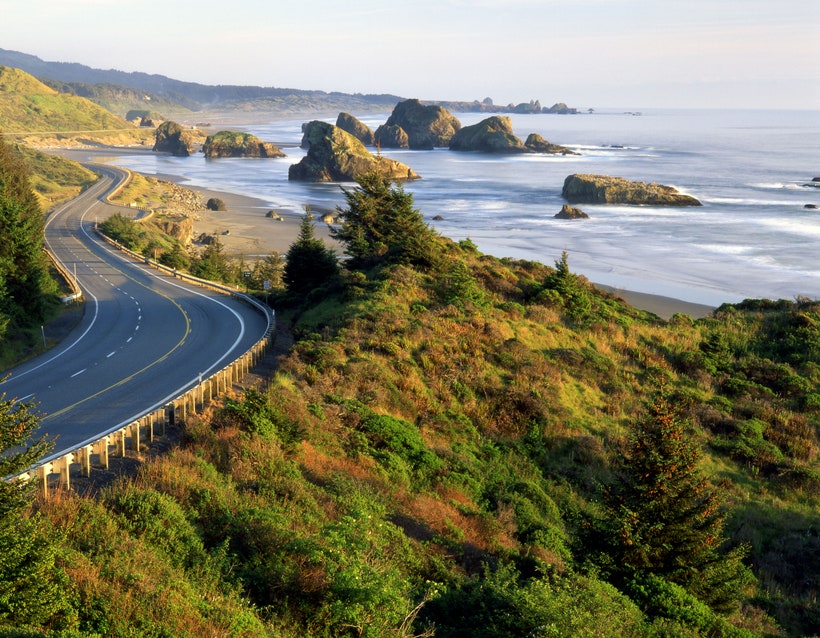 California's PCH might be better known, but Oregon's Highway 101 is just as jaw-dropping to drive, snaking down the shoreline from Washington State to the redwood forests and further south. Along the seven-hour route, there are superb beaches—Cannon Beach is particularly pause-worthy—as well as countless, often near-deserted state parks. The waters here are prime surfing terrain while the small towns along the coast, like Seaside and Newport, have more than a whiff of New England charm, not to mention equally impressive chowder.
Where to stop: Hike through the myrtle and redwood groves of Alfred A. Loeb State Park or the Myrtle Tree Trail, a quarter-mile walk through the fragrant tree cluster to the world's largest known eucalyptus tree, with a canopy that's almost 70 feet across.
Where to eat: Anywhere that serves Pacific clam chowder, which often amps up the flavor of the more delicate, buttery clams round here with chunks of smoked bacon. Compare the recipe at Seaside Brewery with the lighter, bacon-free version at Norma's Ocean Diner nearby.
Where to stay: The six rooms at the Heceta Lighthouse offer a unique coastal hideout. The lighthouse was built in the early 1890s and the cottage was recently converted to an upscale B&B—book the Lightkeeper's Room for the best view of the lighthouse itself.
For more informations,
vip@getamericas.com