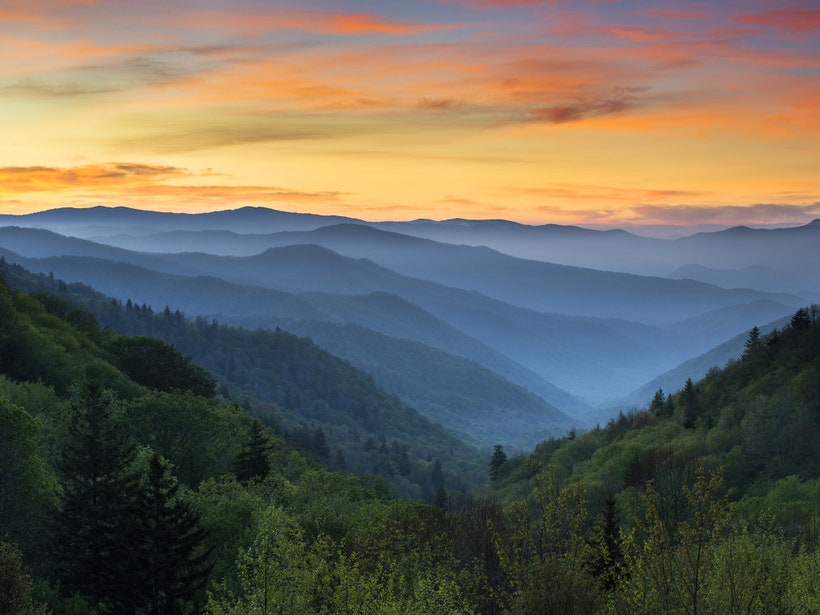 The Blue Ridge Parkway runs for almost 500 miles through Virginia and North Carolina, along a picturesque route that's lined by the soft green valleys descending from the Blue Ridge Mountains, and connecting the Shenandoah and Great Smoky Mountains national parks at either end. Heavy mist wreaths the landscape at dawn and dusk, thanks to the altitude, so take care when driving—that fog is often denser than it looks, and the looping, hilly route demands extra attention. Allow extra time to cover the distance, too, as the speed limit on most stretches is just 45 mph.
Where to stop: This was once moonshine territory, so it's fitting that the region is now a craft distilling hub. Try the moonshine-inspired whiskey from Blue Ridge Distilling, which shortcuts the aging process by stirring shards of toasted American white oak directly into the spirit conferring a smoky richness in less than a week. In Asheville,distiller Troy Ball is known for using an old corn varietal, known as Crooked Creek, whose high fat content rounds out the spirit beautifully.
Where to eat: The superb farmland nearby has drawn chefs to Asheville in increasing numbers, whether El Bulli-trained Katie Button, who owns two spots there, or this year's James Beard Best Chef semifinalist Meherwan Irani, who has a mini empire of Indian restaurants in the area.
Where to stay: Detour off slightly to Pigeon Forge, Tennessee, home of Dollywood, the kitschy theme park owned by Parton herself, and hunker down in one of the cabins there.
For more informations, vip@getamericas.com