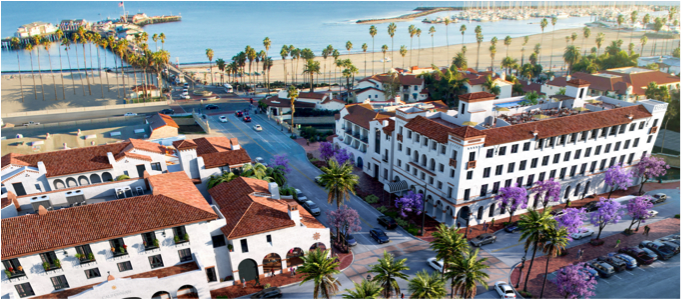 Get Americas spotted you a highly foreseen novelty with this new Hotel !
Full of promises, it is an ideal space for a stay of two persons.
This stylish boutique resort is already grabbing the attention of locals, west coast residents and creating buzz.
Featuring Spanish Colonial Revival architecture and a modern Moorish vibe, the urban seaside property offers a revolutionary experience of the American Riviera, which has been meticulously curated by developer Michael Rosenfeld featuring paseos, gardens, fountains and open plazas. Hotel Californian is located adjacent to Santa Barbara's vibrant Funk Zone, one block from Santa Barbara's Amtrak Station and one block from the Pacific Ocean, including Stearns Wharf.
A timeless adaptation of 1925 Spanish Revival architecture updated with cutting-edge designs and technology, Hotel Californian is at the core of what makes Santa Barbara fascinating and will be embraced by Hollywood elite, stylish locals and discerning international visitors, alike. Hotel Californian is an urban retreat that will newly define the center of Santa Barbara.
This resort will include :
Four buildings in three separate areas offering an acre of lush gardens, gated paseos, fountains and open plazas , luxury accommodations in 121 guest rooms and one two-bedroom Presidential Suite, a variety of loft and guest rooms featuring fireplaces, patios, verandas or balconies with varying views of the ocean, courtyard, paseos and city of Santa Barbara, signature mediterranean restaurant with indoor and outdoor seating and fresh seafood menu, upscale grocery market and casual eatery with craft beer, coffee, pre-made salads, sandwiches and beach picnic baskets, a sprawling rooftop with unobstructed 360 degree views for a spectacular panorama of the mountains and coastline, a third-floor outdoor jacuzzi and pool that offers dreamy and clear views of the Pacific Ocean, a luxury Turkish-inspired spa with exotic and geometric blue-and-white tile, offering a soothing waterfall and private garden, contemporary fitness center, seaside Luxe fashion boutique, various event space including a spacious ballroom, an outdoor grass plaza and an elevated rooftop deck that can accommodate up to 300 people and three meeting spaces that includes private patios and a shared hospitality lounge for coffee, catering and breakout functions.
This package includes nights at the Californian Hotel 
Rates : On request 
To book : mice@getamericas.com