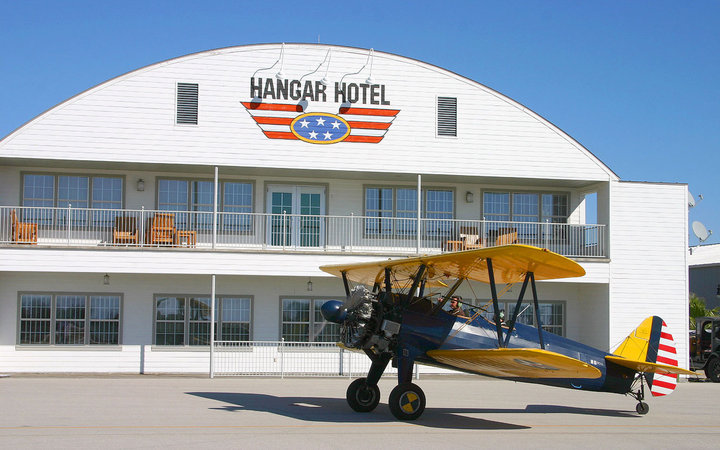 You have already lived it : flight canceled at the last minute, missed correspondence, impossibility to take off, and obligation to sleep in the airport…
Now imagine a hotel located on the tarmac, decorated as in the 40s, where you see take off some small gear
Get the Americas found the solution!
Get ready for a boarding for a night at the hotel that makes you soar.
Immediate landing in Fredericksburg
Founded in 1846 by a German immigrant, Baron Otfried Hans von Meusebach, Fredericksburg was named in honor of Prince Frederick of Prussia. A city where the German dialect of Texas was born, a handful of people still speak, Fredericksburg is now a nice weekend destination for neighbors from San Antonio or Austin, who enjoy the European ambience of the city.
A city with a rich military history, notably in aviation, Fredericksburg is a city of choice where to find a hotel established in an aircraft hangar … Not just any one of the Brooks Air Force Base San Antonio American Army training center opened in 1918.
Counting planes to fall asleep
All the rooms of the hotel seem to be from the 1940's, with good leather armchairs, rattan here and there, and mahogany furniture. The set is very classy, ​​and all that's missing is the smoke of the cigars and some hostesses of the air to complete the decoration of a film.
The main hangar now houses the rooms, and other parts are reserved for a conference room and a dining room that serves breakfast and dinners. The main occupation that will please the enthusiasts of big engines and small propellers remains to be placed on the deck and to observe the planes take off or land.
Only hotel in the world located on a tarmac, it is not too noisy. Only small cuckoos arise from time to time, which do not make as much noise as the Air Force One or take up as much space as an Airbus A380
Rates from $160/ night
Reservations at : info@getamericas.com